We are part of LifeWatch ERIC, the e-Science infrastructure
for research on biodiversity and ecosystems.
LifeWatch ERIC facilitates the sharing and aggregation of open data and its integration and analysis through advanced modeling tools. Its VREs, together with computing capacity and the most innovative technologies, allow for testing scenarios of change in the organization and conservation of biodiversity, ecosystems and their services in response to different pressures.
Slovenian researchers cooperating in this infrastructure are seeking to raise Slovenian science to an internationally comparable level in Environmental
sciences. 
LifeWatch is part of the Slovenian Strategy for Smart Specialization
(S4) and Horizon 2020, focusing on the development of technological solu-
tions in the field of biodiversity and socio-ecosystem research.
Since 2015, the Slovenian Consortium, LifeWatch-SI, has been promoting
the importance of integrating and networking information & data in order to:
coordinate biodiversity research in marine, freshwater and terrestrial eco-
systems;
plan common access to a vast array of data from various databases and
observatories;
predict computing capabilities with analytical and modelling tools in virtual
laboratories;
support training and educational programs that will enable a proper under-
standing of biodiversity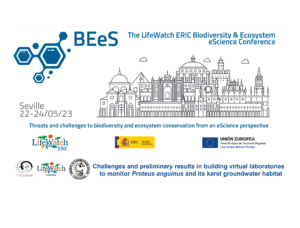 Participation in the conference LifeWatch ERIC BEeS Participation in the conference LifeWatch ERIC BEeS "Threats and challenges to biodiversity and ecosystem conservation from an eScience
Read More »
The LifeWatch-SI consortium consists of 10 partners from nationally and internationally recognised scientific institutions, universities, a regional park, a national museum, and an NGO, all active in the field of biodiversity and ecosystem research, with ZRC SAZU serving as the national coordinator and headquarters of LifeWatch-SI.